See the Future of Meetings at HITEC via AVaStar
Designed by experts with 100+ years of combined hospitality AV experience, the AVaStar SaaS is packed with intelligence, making it easy to use for staff unfamiliar with event technologies
Visit Booth #1019 at HITEC, June 18 to 21, at the George R. Brown Convention Center in Houston
[GAITHERSBURG , M D . — MAY 15 , 2018] — The adoption and use of new technology has sparked a shift in meeting planner objectives and goals. According to the International Association of Convention Centers' (IACC) 2017 Meeting Room of the Future™ report, meeting planners are looking to create more personalized experiences for delegates by integrating more interactive technology. Nearly 20% of meeting planners report that in the next five years, they expect increased pressure to stay ahead of the curve by integrating the latest, greatest technology. In addition, Meeting Planner International 's 2017 spring edition of Meetings Outlook, reported t hat meeting planners are significantly increasing budgets for conference technology and AV equipment, suggesting that meeting planners are willing to make the investment because of the competitive edge and wow factor new technologies bring to meetings.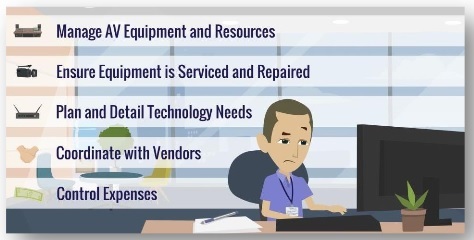 Next month at HITEC, a new company will enter the scene, designed to bring more attention to the event technology arena. Meet AVaStar, a digital platform created in direct response to hoteliers' requests for a solution that guide s staff in providing technology services to their customers. Hoteliers struggling with keeping event technologies updated, developing technology plans and budgets, and providing training to internal AV teams needs to experience AVaStar in the EMD Booth No. 1019 June 18 to 21 at the George R. Brown Convention Center in Houston.
AVaStar is designed for staff tasked with the following. . . even if it's not their primary job responsibility:
Overseeing multiple events simultaneously
Juggling large amounts of information dealing with meetings management, and multiple systems that track and communicate meeting needs –
including audiovisual technology
Planning and detailing meeting technology needs
Managing venue AV equipment and resources
Coordinating with vendors to order additional equipment as needed
Ensuring portable and built in equipment is serviced and repaired
Properly manage revenues and control expenses
"AVaStar is powerful event technology unlike anything that is on the market today," said Jeff Loether, AVaStar president. "It's the next generation in AV managed services, and hoteliers can experience it for the first time at HITEC. AVaStar provides one dedicated platform to conduct all AV Technology activities. Even with no technology background, today's hotel staff must understand the technology needs of meeting planners to ensure the venue can meet their needs. We packed AVaStar with intelligence, making it smart and easy to use... even for those who are unfamiliar with AV equipment.
Nearly 20% of meeting planners report that in the next
five years, they expect increased pressure to stay ahead of
the curve by integrating the latest, greatest technology

IACC 2017 Meeting Room of the Future™
"Hotel technology encompasses much more than just front - and back - office systems," he said. "Event technology is an important tool in attracting and retaining the meetings and convention business. It's time that technology – designed to support teams and venues in successfully providing top - quality event services – take center stage. It's time for AVaStar."
For more information on the full constellation of AVaStar services, pre-schedule a meeting with an AVaStar team member by calling (442) AVASTAR or emailing info@avastar.io. For more information on AVaStar, visit www.avastar.io.
---
‹ Back