EMD Offering 'Self - Audit Questionnaire' to Aide HITEC Attendees with Tradeshow Strategy
Want to know where your AV Technology program is falling short? Complete EMD's online questionnaire to receive a customized scorecard at HITEC to better shop this show and create a better guest experience; HITEC Attendees can enter to WIN a Bose Bluetooth Speaker System
Visit Booth #1019 at HITEC, June 18 to 21 , at the George R. Brown Convention Center in Houston
[GAITHERSBURG, M D . — JUNE 12 , 2018] — Who budgets Capex funds for AV equipment and systems at your hotel ... Finance ... IT ... AV? Do the presentation systems at your property meet your current brand standards? How are you tracking AV/Technology revenues and costs?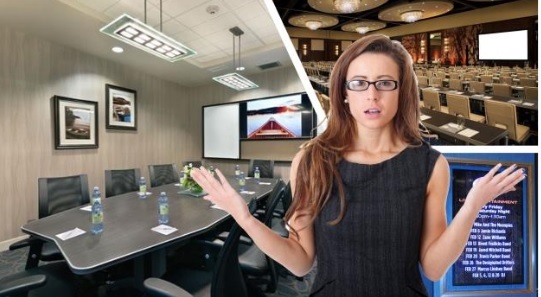 If you don't know the answers to these questions but are planning to attend HITEC this month in Houston, then it would be prudent to schedule a visit with the foremost consultancy in meeting, entertainment, and event technologies and acoustics, EMD. By completing a short, online "Self - Audit Questionnaire" EMD will identify where attendees' AV Technologies may be falling short and help them better prepare to shop this premier technology event, to be held June 18 to 21 at the George R. Brown Convention Center.
Taking the Self - Audit Questionnaire will assess if:
AV Technology services are being managed efficiently within a venue
Non - event AV systems (such as background music systems throughout the hotel) are being maintained properly
Preventive maintenance includes a formal tracking system for AV service and repair
Display systems are meeting high definition 1080p digital image and resolution requirements
Discounting AV Technology services is helping or hurting operations
A market strategy exists that ensures AV service offerings match the level of service and capabilities of a hotel's other event service offering
To take the Self - Audit Questionnaire, click here. Participating hoteliers will receive a customized scorecard from EMD at HITEC that will reveal operational areas where they can improve on AV - management processes.
AV Challenges for IT Departments
Oftentimes IT people find themselves thrust into the role of AV Technology manager, but they don't know much about the equipment or planning processes, but there is no one else to do it, said Eric Bracht, EMD Managing Director and winner of the 2017 International Association of Conference Centers' (IACC) Award of Excellence. "Likewise, hotel engineers and the F&B team don't have the training or skill set required to support customers' technology requirements. If the hotel has an in - house AV provider, chances are they will manage the meeting technologies but not other systems that aren't revenue generators, such as back ground music systems and digital displays in the restaurant, lobby, spa, pool and elevators. Determining who is responsible for these systems is challenging – especially for non - technical hotel staff whose primary job responsibility does not include AV equipment . At HITEC, we want to speak with those IT folks who are looking for options and support to assist with managing.
Bracht explained that IT used to oversee revenue generation from pay phones, long - distance calling, pay - per - view movies and high - speed Internet access. Today, however, these revenue sources are gone, while IT still has to invest in the best possible WiFi to meet guest demand and expectations. If they don't spend the money to beef up the infrastructure, then guests will go elsewhere. Adding AV to the IT department's list of tasks just compounds their frustration.
AVaStar Comes to the Rescue
"We want IT departments to become profitable again," said Jeff Loether, President of EMD and winner of the IACC's 2018 Mel Hosansky Award for Distinguished Service. "W hen properly run, AV is the second most profitable department in a hotel, behind rooms. At HITEC, we will introduce IT professionals to a new solution that predicts, prevents, and troubleshoots audiovisual problems before they arise. Called AVaStar, the tool is designed for non - technical in - house hotel staff to manage the event technology process and coordinate equipment rental, set up and servicing. It's the missing link to event technology management that small operators have been asking for.
"As someone who has worked in the event technology field for nearly 40 years (from concept through design, to construction, commissioning, and operations), I have spent my career helping hoteliers and conference center operators to better manage their AV technologies," Loether said. "By taking this Self - Audit Questionnaire, we will quickly identify ways that hoteliers can self - manage their AV Technology processes. We will then sit down with hoteliers at HITEC who want to review our findings and receive a scorecard to see where they can improve using AVaStar. Even if the hotel has an outsourced AV partner working onsite or providing rental equipment, AVaStar enhances the AV management process by equipping hotel staff with scripted sales to sell third - party equipment services. It's a win/win/win for hoteliers, outsourced AV companies and meeting planners."
To pre - schedule a meeting with an AVAStar or EMD team member at HITEC without taking the Self - Audit Questionnaire , call (442) AVASTAR or email info@avastar.io. For more information on AVaStar, visit www.avastar.io.
---
‹ Back